RACE COMMITTEE SIGN-UP
Every family must perform the duties of Race Committee twice per season. There are generally two families working together, and we make sure to pair a new family with a returning family. Your registration is not complete until you have signed up!
The race committee signups are listed below.  If you have any issues, please email the commodore.
What to do when I am on Race Committee?
What to do on the day?
Call the other race committee family midweek and arrange to meet them at the dingy dock at 1100 hrs on your race committee day.
The dinghy dock is in front of West Marine in the harbor
Remember everyone in the safety boat should wear a life jacket (PFD)
It is recommended that children not be on the safety boat. If they are, they must wear a life jacket (PFD) at all times.
How to start the engine on the inflatable safety boat
Tilt the engine back into the water by releasing the lever under the engine
Connect the fuel line to the engine
Check the fuel in the fuel can: you can fuel up in the fuel station, our account is Seashells SBSSA
Open the air valve on the fuel tank. It is in the center of the black cap
Pump the fuel pump which is on the fuel line 2 of 3 times until it is hard
Make sure the safety clip is inserted behind the stop button on the throttle
Make sure the shifts is in its neutral position
Pull out the choke
Pull the starter cord to start the engine
Push the boat out into the narrow channel or if you feel confident, enough set engine in reverse and carefully back out
How to start the engine on Roaring Waters (fiberglass safety boat)
Open locker with key. The locker is inside the boat and uses the same combination as the condos
Open the air valve on the fuel tank. It is in the center of the black cap.
Pump the fuel pump which is on the fuel line 2 or 3 times until it is hard
There is a lever above where the key insures into the motor control unit on the right side of the boat. Lifting the lever slightly can make starting easier as it increases the idea throttle
Make sure the engine is in neutral
Start the motor by inserting the key and turning it clockwise
Use the long pole in the boat, push yourself into the right position in the channel. The boat is large and the propeller cage can easily be damaged if you try to power yourself out
Once you are in a position to go straight out with no risk of hitting rock with the propeller, you can lower the engine using the "up/down" button on the left side of the throttle
One the propeller is fully submerged move motor control lever forward to go forward or back to go back
Setting the Marks
Motor over to west beach and leave the small safety boat anchored by the "mast"
Don't forget to push in the choke at some stage (if on the Small Safety Boat)
Head out on the larger boat and set the marks (some of the marks are left permanently, but not all (you must set A, B, D and start/finish line buoys)
The more experienced family will know how. Learn from them, as next year you will be the more experienced family
Plan the racing day
Races start straight after the mast meeting
The target is to have two child races, one adult race, and then one more child race
The target is to have the last race start no later than 1600 hrs
If you have any questions about which course to run ask the race secretary
There is a guide to the flags and whistles by the mast (and in the SBSSA Booklet)
Start Sequence / Racing Rules
As Race Committee for the day, you will organize the races corresponding to the Regatta Series of that day (check calendar)
There are always 2 families on Race Committee each day
Please refer to the SBSSA Booklet for more details
Typically, a race day will include:

Mast meeting with information, race instructions
2 child races (return to the beach after each race)
1 adult race, organized by the kids!
1 additional child race

All sailors will be called to the mast for their race course notice. At the mast, a sound signal will be given to signify that the warning for the first class will be in 6 minutes. Unless otherwise announced at the mast, race will be started in the following order (B and C fleet start may be combined)

1st – RS Feva – 3 minutes – Green Flag
2nd – A-fleet – 6 minutes – Red flag
3rd – B-fleet – 9 minutes – Blue flag
4th – C-fleet – 9 minutes – Yellow flag
5th – Novice – 12 minutes – Orange flag

The starting sequence for the whistle is as follows below: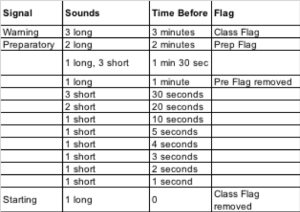 At the end of the day
Take down the mast and put it and the flags into the large safety boat
Collect the all the buoys (A, B, D and start/finish line) and put them in the large safety boat
When all the sailing boats have rounded the point, you may head back to the dingy dock
Take the boats back and fill up with fuel if needed so that they are ready for next week
To close down the engine, proceed with the operations in reverse from the beginning of the day (see above). Make sure that the engines are tilted out of the water
Spaces are not allocated at the dingy dock, tie up wherever there is space
Back at the condos you will be responsible to make sure all the condos are locked (including the two mast lockers) and all forgotten items are stored in the "lost and found" locker
Make sure the dollies are all locked up and the water hoses are put away